Meet the Staff
Welcome to Kavali Plastic Surgery and Skin Renewal Center. I am thrilled to have you here, and I hope that you will have a rewarding experience with us. This practice is a labor of love for me, and has no shortage of my own blood, sweat, and tears in it. When I started it in 2002, I had no idea where we might end up and no idea how quickly we would grow. Our success is due to our people and our ability to communicate, sympathize, and empathize with our patients.
Our goal is to provide you with the "ultimate patient experience". Our well-trained staff will help you understand your procedure, our financial policies, the scheduling of your surgery, and your postoperative care.
Request an Appointment
Stephanie Parker
Physician Assistant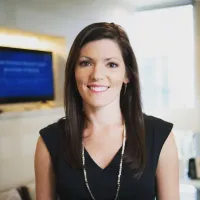 Meet Stephanie Parker, one of our Physician Assistants! She has over 6 years of vascular surgery experience and has built an extremely loyal following with aesthetic injectables.

Stephanie earned her BS in Biology at Georgia Tech. She then went on to earn her Masters of Physician Assistant at Medical College of Georgia in Augusta, Georgia.

Stephanie grew up in a super small town 1 hour south of Atlanta - Jenkinsburg, Georgia. She is recently married (He's UGA grad so new house divided) and she's a Huge Georgia Tech FAN!! Go Jackets!

For fun, Stephanie enjoys world travel! She has visited 9 countries in the last year and can't wait to continue adding more. Recent favorites include Machu Picchu in Peru and Ireland for GT football game. Most exotic places include Vietnam and Cambodia.
Ana Kazlauskas
Physician Assistant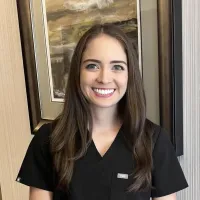 Ana is a Board-Certified Physician Assistant with experience in Neurosurgery and Emergency Medicine. She earned her Bachelor of Science degree in Health Promotion at UGA and a Master's Degree in Physician Assistant Studies at High Point University.

With Allergan and Dr. Kavali, she has received extensive aesthetic training and experience. Ana is dedicated to enhancing your natural beauty and rejuvenating your confidence.

She recently moved back to GA from NC and bought a house in Woodstock, GA with her husband. They have two adorable goldendoodles named Gracie and Finn.
Elisabeth Fishburne
Licensed Medical Esthetician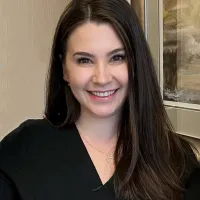 Elisabeth has been working in skin care for over 10 years and serves as our Medical Esthetician & Laser Technician. She began her career early on, graduating from a local Atlanta school specializing in Aesthetics, in 2009. Elisabeth finds joy in studying the latest technology and products on the market, assuring our patients receive the best the industry has to offer! She has perfected the craft of microdermabrasion, micro-needling with PRP, chemical peels, CoolSculpting, Ultherapy and laser treatments; including hair removal, vein clearance, skin resurfacing, and more. She has been trained to work with Revision, SkinMedica, and Obagi Medical and loves the chance to educate each patient on the importance of proper skin care techniques, products, and solutions.

Elisabeth takes pride in her ability to build a strong relationship between herself and her patients. Raised in Atlanta, Elisabeth is a big foodie who loves to travel the city, trying new restaurants and enjoying new experiences with her husband and baby girls.

Elisabeth has the unique ability to offer creative and personalized treatment plans for her patients that align with their goals, budget, and lifestyle.
Erik Van Name
Operations Director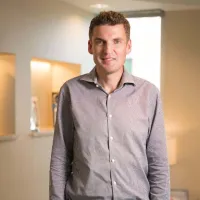 Erik is our right-hand man for all things operational (aside from actual surgery, of course). He is primarily a staff resource, but often interacts with our clients and vendors regarding business matters. His steady nature and sense of humor help to keep us on track.


Jackie Zatezalo
Practice Manager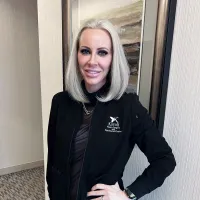 Jackie joined us in 2019 with over 10 years of Client Services experience and a strong passion for aesthetics. She enjoys guiding patients through all areas of the practice, and loves seeing others feel confident about investing in themselves. When she's not working on marketing and social media, she's usually running around the front office meeting new patients and catching up with our "regulars"! Jackie works closely with our reps and vendors, strategizing and digging for any and all promotions and rewards available to our patients. If you're feeling undecided on a treatment with us Jackie has the knowledge to help you pinpoint which exact option is best for you, keeping in mind your goals, budget, and that there is no "one size fits all". She loves leading our Client Services team to help deliver the best patient experience.

Prior to joining our team, she worked as a National Account Executive for a global Internet company. Jackie earned a Bachelor's Degree in Psychology from Elon University, and went on to earn her Master's Degree in Counseling. She grew up in Alpharetta, and is now raising her own family in north Forsyth county.
Ashlee Kenny
Clinical Manager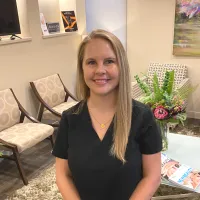 Ashlee is our Clinical Manager who is a metro Atlanta native that joins our team with 4.5 years of Plastic Surgery experience. She received her Bachelor's degree in Exercise Science at Kennesaw State University. She will guide you through your entire surgery planning process, and will be by your side as you go through this journey at Kavali Plastic Surgery. Ashlee also manages our back office inventory and staff…making sure we are always stocked of the good stuff!

Her passion for her career in the medical field was apparent from a young age as she showed a natural desire to help others; in high school she served as an Athletic training assistant to the football and wrestling teams. Outside of the office Ashlee likes to do photography and watches a lot of sports. She resides in Woodstock with her family.

Ashlee's calm and friendly nature makes her an excellent source of support, and you can take comfort in knowing she has everything under control; alleviating unnecessary stress and worry throughout your entire experience from your consult to day of surgery.
Madison Roberts
Client Services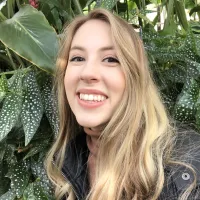 Madison began working at Kavali Plastic Surgery in 2021. Madison graduated from Georgia State University in 2019 with a bachelor's degree in Psychology and served as a sexual assault victim advocate for two years before joining our practice. She lives in Forsyth County with her fiancée, two cats and two dogs and currently spends her free time wedding planning! Our patients love her sweet, bubbly personality and contagious smile.
Testimonials
"
For me the difference in this practice is the staff. They remember your name, they are the same smiling faces. You feel like you are the only patient they have.
- Venus B.