The Advantage of a Better Kind of CoolSculpting
If you've been researching nonsurgical ways to remove unwanted fat, then you've undoubtedly come across CoolSculpting. CoolSculpting has been around for years now, and is tried and true technology: cryolipolysis. In short, it freezes the fat, which destroys the fat, getting rid of fullness in your problem areas.
My great experience with CoolSculpting has been this:
It removes unwanted fat from just about anywhere on the body
It's completely nonsurgical with no scars
Usually no downtime or recovery time needed
Results are long-lasting, changing only with weight gain or loss after the procedure
Those are the great aspects of CoolSculpting. But nothing can be exactly perfect, right? So here were the things I noticed that were a little short of perfect:
Each treatment cycle took 1 hour
Some people did have some bruising after treatment
Some people did have some "burning" pain after treatment, especially when the large applicator was used on the lower abdomen
Clearly, I wasn't the only one to notice these things. Zeltiq, the manufacturer of CoolSculpting, has continued to innovate its already first-in-class product. Not long ago, they launched CoolAdvantage applicators.
Here are the differences between the old applicators and the new CoolAdvantage applicators: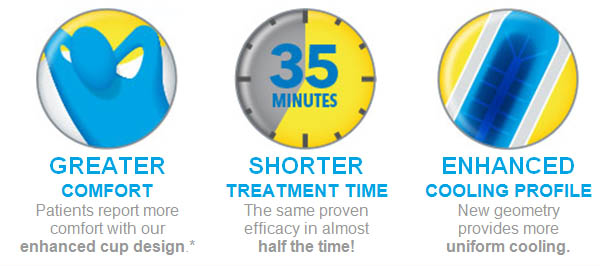 Shorter treatment cycle time of just 35 minutes, compared to 1 hour with the old applicators. The shorter treatment time is possible because the CoolAdvantage applicators are 1 degree Celsius colder than the old applicators.
Less bruising with CoolAdvantage applicators because there is less suction strength
Less "burning" pain with the CoolAdvantage applicators, perhaps due to less suction strength and/or shorter treatment times
Larger treatment area because the entire applicator is the treatment area, not just the side-panel parts of the applicator, so the CoolAdvantage applicators treat more fat in less time.
So the CoolAdvantage applicators treat more fat in less time with less discomfort. Once you've completed your CoolSculpting treatment you'll start to see results in as little as 3 weeks, with final results in 3-4 months. There's literally nothing to lose but the fat! Give us a call to get started on your CoolScuplting Advantage contouring journey: 404-250-3333.